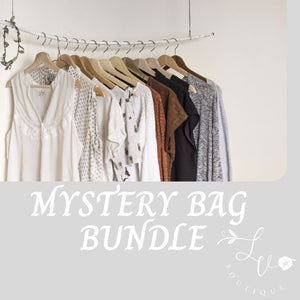 This is the deal you don't want to pass up! This bag will be jam packed with so many goodies from tops, bottoms, dresses, jumpsuits and accessories. All items will be  randomly selected styles with 8-10 pieces. Please specify in your order if you prefer to not receive dresses/jumpsuits/rompers. All of the items in this bag will be from all seasons. 
You will receive FREE SHIPPING with this Mystery Bag order
No additional discounts can be applied
No returns/exchanges
The FUN is in the mystery!
I opted to go for the Mystery Bag because sometimes you just need to branch out!? Lots of adorable pieces that I honestly, probably wouldn't have even considered trying on, but are now a part of my wardrobe and I can almost guarantee compliments when I wear them! Thank you!!